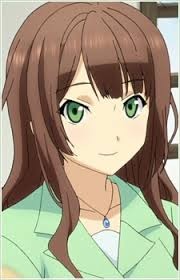 Hazuki is a 23-year-old teacher at Takafuji Academy. She is Satsuki's older sister and is the adviser for FRC. She often drinks beer in the clubroom of FRC. She secretly loves Yuki. She initially believed she was the daughter of her father's first wife, but she later discovers that she is in fact the illegitimate daughter of her father's then-mistress. Her father's first wife later dies and he marries his mistress, who later gives birth to Satsuki. Upon realizing this, Hazuki became depressed and left the family.
Section headings
Edit
Write the second section of your page here.
Ad blocker interference detected!
Wikia is a free-to-use site that makes money from advertising. We have a modified experience for viewers using ad blockers

Wikia is not accessible if you've made further modifications. Remove the custom ad blocker rule(s) and the page will load as expected.